ABOUT MY COMPANY
Thanks for wanting to learn more about my company. I started AskListenHear to take what I've learned in developing impactful sales trainings and content and provide it to organizations looking to improve their performance.
In my book, The Excellent Persuader, I laid out how to build your people, resources, and possibilities. With my company, I want to take it one step further and work directly with organizations like yours to offer Training Solutions, Content Development, and Inspiring Presentations.
SIGN UP FOR MY EMAIL NEWSLETTER
Receive my free Tips and Tricks to improve your performance directly in your inbox!
A LITTLE ABOUT ME
Hi, nice to meet you, I'm Steve Havemann. I am the co-author of The Excellent Persuader, a cutting edge sales training and development book.
Through my background in programmatic work, I excel at the art of persuasion and business development.
I hold my Masters' Degree in Education from Drake University, with a focus in Training in Development.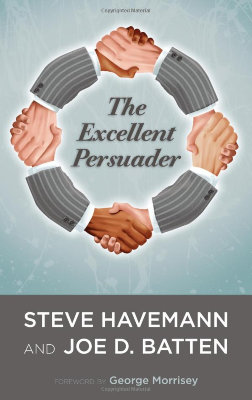 Co-Author of
THE EXCELLENT PERSUADER
My book is designed to reach sales professionals, sales managers, and organizational leaders at every level. Whether entry-level, veteran, or manager, I guide you through the ART of how to become an excellent persuader by utilizing the techniques and specific strategies.
Through the use of sales, human resource development, management, and leadership techniques, I provide the tools to alter the paradigm through which struggling, average, above average, or overeager sales professionals approach their professions. I address the concerns voiced by sales leaders, as well as specific techniques to educate, re-frame, or re-invent individuals' approaches to sales. Purchase it NOW!